Enjoy the journey
Independent financial planning and investment management solutions all under one roof.
All your financial planning needs and investments are in one place.
To achieve your objectives, you need an effective way to manage your wealth. Our integrated approach goes above and beyond to provide you with a coordinated and simplified experience that is personal to you. It's this all-around expertise that sets us apart.
What we do
Phil Marriott
December 29, 2022.
Adrian's vast knowledge of pensions and investments always inspires confidence, yet he communicates his expertise in such a straightforward way. He is very approachable and it has been a pleasure to trust him both professionally and personally for many years. I can happily recommend him and Wattam Kirby Mee.
Mark Coster
November 29, 2022.
Over the last few years my partner and I had put in a number of 'safeguards' for our immediate and short term future (life insurance, critical illness, private medical, unemployment cover etc), but we realised there was a bit of an unknown with our medium/long term future in terms of pensions. We both had company pensions from when we were employees, but had nothing set up since we went self-employed. Having seen Neil several times at networking I was impressed with the way he presented, his approach and also his willingness to freely provide information, and general guidance and demonstrate his expertise. So I asked him to look at our financial situation. He was very patient with us whilst we collated all the various bits of long-forgotten paperwork so he could get permission from the pension providers to access our details, and at every stage he was clear and helpful with the information he provided - and patiently dealt with our myriad of pensions. We now have a much clearly picture of a financial future and a greater understanding of what we can do to improve it further - and this is down to Neil and the team at WKM Wealth - thank you. :) I would highly recommend speaking to WKM Wealth if you have any queries about pensions, investments or your financial future.
Julie Pentecost
September 21, 2022.
We approached WKM Wealth to discuss our pension plans with a view of early retirement. In our first meeting we discussed a monetary figure we wanted to get from our fund each month. Following a couple of meetings with them it was pleasing to hear that it was possible to achieve our goals. So far working with WKM Wealth they have always been available, welcoming and made us feel very comfortable with our requirements. We would recommend to others that they consider approaching WKM Wealth with confidence to discuss their future.
Karen Blackwill-Davies
September 14, 2022.
WKM have a highly personable approach to dealing with their clients, which is hard to find in current times. They are super efficient and highly diligent. Experts in their fields, they can deal with all aspects of financial management. A great team.
Drea Warner
September 12, 2022.
My husband and I were looking for a little tax and investment and pension advice. We have done quite a bit of research in the past few months but knew we could be missing out on 'not knowing what we don't know'. The books we have been reading are very US-focused, so I arranged a call with financial advisor, Neil, and honestly, it was so enlightening. Firstly he reassured us we were on the right lines, secondly, it was such a relaxed call, where even when we needed Neil to elaborate on details, he didn't make us feel stupid for not initially understanding certain elements. Finally, we finished the call having learned at least 3 snippets of extremely valuable information that we didn't know before. Complete success. Would I trust Wattam Kirby Mee to manage our financial affairs in the future? Absolutely.
I had a meeting with Neil today in an effort to finally start planning financially. Neil was great - he listened and took on board my personal circumstances, before clearly explaining my options. We discussed the pros and cons of each, and Neil was able to answer my questions in simple, everyday language - no jargon or sales pitches. I wouldn't hesitate to recommend WKM.
Greg Johnson
August 13, 2022.
Having WKM look after my investments is excellent. My retirement plans previously have always been a bit "hope my pensions work out" so having someone look after it for me works well. It's not just about someone looking after my money though, the personal touch is great, I'm far from a big client but you'd never know it. Regular communications and updates about markets and what is happening plus a really easy to use app on top make things nice and simple. Working with a business like WKM means I don't just feel like account number ABC123, which what I've seen before I moved things over. I wouldn't hesitate to recommend them!
Rishi Mahadeo
June 20, 2022.
The team at WKM were very helpful in setting up and advising on our pensions, ISA's and investments. We had multiple pensions in several work place pensions which we wanted to consolidate into one place. We also had multiple investments which we also wanted to do the same. The team provided clear and honest guidance on what we could do. We certainly feel our money is in good hands. In addition to this they were also able to help with our protection needs when our employment situations changed. Would Highly recommend!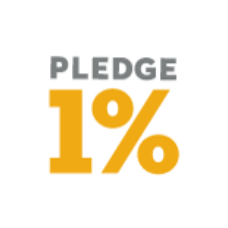 Our 1% pledge
We need to be aware of what's happening around us, which is why we're part of the Pledge 1% initiative. It's more than just donating money; we give 1% of our time, products and profits to good causes annually.
Learn more